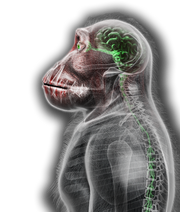 See also: Zombie
Apes are the core mechanic of Simian Flu plagues. Being designed to boost intelligence and due to being solely tested on apes, the Simian Flu is able to boost the intellect of infected apes vastly, increasing them to levels above, if not equal to humans. Like in the movie Dawn of the Planet of the Apes, apes gain green irises when infected and can gift other apes with the virus through intentional or unintentional means. Apes can also infect and be infected by humans with the Hominidae Bridge transmission.
Intelligent apes can create colonies in countries to protect themselves and other apes, and create DNA bubbles. Apes can also be slowly migrated from country to country, which can be sped up by teaching them how to create rafts and tame and ride horses. Apes can be migrated into existing colonies manually or over time with Ape Migration. The game is won if the population of intelligent apes exceeds that of humans, even if the Simian Flu itself is cured.
Starting off, Apes aren't viewed as a threat or even intelligent once they escape from Gen-Sys. This changes once the Simian Flu is discovered and Gen-Sys conducts traumatic experiments on the apes. After being discovered that apes are attacking labs and that the disease affects both apes and humans, humans will start to blame apes for the infection of their country. This eventually leads to the world taking aggressive action, and targeting ape colonies with military Drones, killing any apes still in their area of effect. Apes can also be fiercely hunted down in countries. If apes rampage during this time, humans will gladly counter attack, resulting in massive ape casualties.
Gen-Sys will also go to countries with ape populations and try to gather them up to conduct traumatic experiments with high ape casualty rates while also increasing cure research speed. Once all apes are dead or if Gen-Sys has failed to gather apes in a long time, they'll depart for another country. Intelligent apes can avoid capture by either preemptively destroying Gen-Sys labs before they are fully set up or being sheltered in colonies.
Ape Count
Edit
Countries by ape population (Total: 644,462)
Edit
| Country | Ape Count | Percent of Total Ape Count |
| --- | --- | --- |
| Central Africa | 408,738 | 63.42 |
| Indonesia | 70,738 | 10.98 |
| East Africa | 32,978 | 5.12 |
| West Africa | 31,014 | 4.81 |
| Sudan | 21,585 | 3.35 |
| India | 18,416 | 2.86 |
| China | 18,021 | 2.8 |
| USA | 4,153 | 0.64 |
| Southeast Asia | 3,397 | 0.53 |
| Brazil | 2,752 | 0.43 |
| Angola | 2,356 | 0.37 |
| Pakistan | 2,333 | 0.36 |
| Russia | 1,905 | 0.3 |
| Japan | 1,713 | 0.27 |
| Mexico | 1,524 | 0.24 |
| Germany | 1,396 | 0.22 |
| Philippines | 1,253 | 0.19 |
| Colombia | 1,203 | 0.19 |
| Egypt | 1,090 | 0.17 |
| France | 1,025 | 0.16 |
| Iran | 994 | 0.15 |
| Korea | 984 | 0.15 |
| Turkey | 978 | 0.15 |
| Balkan States | 872 | 0.14 |
| UK | 836 | 0.13 |
| Saudi Arabia | 830 | 0.13 |
| Italy | 813 | 0.13 |
| Argentina | 773 | 0.12 |
| Spain | 762 | 0.12 |
| South Africa | 719 | 0.11 |
| Algeria | 619 | 0.1 |
| Ukraine | 616 | 0.1 |
| Central Asia | 610 | 0.09 |
| Central Europe | 594 | 0.09 |
| Middle East | 515 | 0.08 |
| Poland | 513 | 0.08 |
| Central America | 483 | 0.07 |
| Afghanistan | 462 | 0.07 |
| Canada | 458 | 0.07 |
| Iraq | 430 | 0.07 |
| Morocco | 429 | 0.07 |
| Peru | 391 | 0.06 |
| Caribbean | 337 | 0.05 |
| Australia | 300 | 0.05 |
| Madagascar | 278 | 0.04 |
| Baltic States | 221 | 0.03 |
| Kazakhstan | 219 | 0.03 |
| Zimbabwe | 169 | 0.03 |
| Bolivia | 133 | 0.02 |
| Sweden | 126 | 0.02 |
| New Guinea | 92 | 0.0143 |
| Libya | 85 | 0.0132 |
| Finland | 72 | 0.0112 |
| Norway | 66 | 0.0102 |
| New Zealand | 59 | 0.0092 |
| Botswana | 27 | 0.0042 |
| Iceland | 4 | 0.0006 |
| Greenland | 3 | 0.0005 |
Scroll down for more content

NEWSFLASH: Apes escape in <country>: A group of apes have broken out of a primate shelter in <country> and destroyed a Gen-Sys lab - causing citywide chaos. Authorities were unable to contain the, and the apes escaped
Gen-Sys CEO killed during Ape Escape
Escaped apes tracked from city to national park
Cloud cover disrupts Ape Escape video footage
Authorities find apes infected with <plague name>
<country> legalises use of primate poisons
<country> warns public to avoid ape contact
<country> designates apes a health risk
<country> put ape shelters under lock down
<country> launches ape bounty scheme
<country> declares apes a threat to national security
<country> sets up ape tracking database
<country> legalises ape hunting
Ape shelter owner found mutilated in car park
Mayor demands animal escape protocols strengthened
Terrorist involvement in Ape Escape ruled out
Ape Escape CCTV suggests high intelligence
Police warn against ape attack hoax calls
Police defend Ape Escape response time
Mayer 'escaped animal' incident confirmed
<country> shuts down animal welfare charities
<country> positions snipers near forests
<country> declares 'sheltering apes' a criminal offence
Volunteers in <country> form anti-ape 'Darwin Squads'
<country> officially recognises Darwin Squads
<country> closes zoos over ape fears
Drones target apes in <country>
<country> sets up national ape hotline
<country> closes parks over ape fears
<country> trains police dogs to hunt apes
<country> arrests animal rights protestors
<country> plants landmines in ape territory
Runaway apes in <country> force circus close