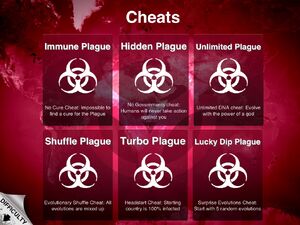 Cheat Plagues are special Plagues that don't change the symptoms, but are easier to beat. The first four can be unlocked either by beating all regular plague types on Brutal Difficulty, the next three on Mega Brutal Difficulty, or by purchasing them ($9.99). As of Mega Mutation 8, all cheats are now usable by all Plagues and can be combined. Mobile is the same (update unknown). In Plague Inc. Evolved, all cheats can be unlocked by beating all of the Plague types in normal difficulty. This includes the Neurax Worm and the Necroa Virus. However, this does not include the Simian Flu or Shadow Plague.
Available Cheats
Edit
Ad blocker interference detected!
Wikia is a free-to-use site that makes money from advertising. We have a modified experience for viewers using ad blockers

Wikia is not accessible if you've made further modifications. Remove the custom ad blocker rule(s) and the page will load as expected.