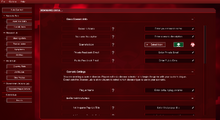 A new feature to exclusive to Plague Inc: Evolved and mobile version, with the option to create a custom scenario. It has the same base plagues (Bacteria, Virus, etc. and the expansions for you to use as a starting point) from the main game, and gives you the option of modifying the world's statistics (population, healthcare budgets, etc.), in game events (recommended for expert users only), and a government actions at your disposal. The Scenario Creator is separated into 5 different parts (or labs).
| Labs | Optional | Description and use |
| --- | --- | --- |
| Scenario Data | No | Allows you to edit basic scenario info, such as the title, icon, as well as more advanced options such as alternative win conditions and message boxes. |
| Disease Lab | Yes | Allows you to create a custom plague to use in your scenario. Modify its basic stats, as well as transmission, symptoms, and abilities. |
| World Lab | Yes | Allows you to modify country attributes, such as population, climate, health care budgets, and border statuses. |
| Government Actions Lab | Yes | Allows you to create and edit actions taken by governments in response to the disease.  |
| Events Lab | Yes | Allows you to create game-changing events and narrative pop ups for your scenario using powerful scripting tools. |
Ad blocker interference detected!
Wikia is a free-to-use site that makes money from advertising. We have a modified experience for viewers using ad blockers

Wikia is not accessible if you've made further modifications. Remove the custom ad blocker rule(s) and the page will load as expected.