Research labs, as identified in-game, are considered to be the Shadow Plague equivalent of Gen-Sys labs. They are relatively easy to destroy, similar to those in the Simian Flu. However, unlike the Simian Flu, if the player evolves Shadow Slaves, they will actively destroy any WHO lab in their country.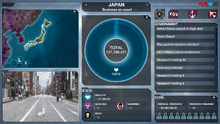 .
Ad blocker interference detected!
Wikia is a free-to-use site that makes money from advertising. We have a modified experience for viewers using ad blockers

Wikia is not accessible if you've made further modifications. Remove the custom ad blocker rule(s) and the page will load as expected.